Take a shot on your next team night out
Are you trying to plan your next team-building night out, but are struggling to find a venue that will cater to your needs? Well, it would be rude to not put ourselves forward! Home to THE CUBE Live, Putters and THE BUTCHER, Urban Playground is the perfect place to bring your team together.
We recently opened our latest venue in Manchester, for people to enjoy competitive socialising through cutting-edge technology and premium food & drink – is there much more to ask for?
What can you do?
THE CUBE Live
If you've seen it on TV, the thought of taking on THE CUBE yourself would have certainly crossed your mind; probably more than once! And for those of you that haven't, this award-winning gameshow sees contestants take on a series of tasks within the high-pressure confines of a Perspex box. Making for the perfect team-building exercise to get people working together.
We have now bought this concept into our very own studio, where you can take on the challenges in person as if you were really on the telly. In teams of up to four, take on the challenge of seven iconic games, both as a single or two-player and see if you really have what it takes to take on THE CUBE Live.
Putters Golf
Once you have tried your hand at taking on THE CUBE, why not have a bit of friendly competition at Putters? Our tech-infused mini golf experience (one of the best in the world) is perfect for groups of up to six. You have the option to take on three different nine-hole challenges, all with different themes to shake up your night. To elevate the competition, you will be able to keep track of scores as you go and even see how yours compare to other high scores gained throughout the day. Our special audio effects and on-screen animations will keep the adrenaline pumping throughout the course.
THE BUTCHER
So you've had your fun and your team has worked together, but now it's time for a pit stop to refuel. Enjoy a selection of burgers and other hearty dishes at the renowned restaurant, THE BUTCHER. Using only the best quality meat (Aberdeen Angus), THE BUTCHER is easily one of the best places to eat out in Manchester. 'The Daddy', 'Silence of the Lamb' and 'The Butcher's Wife's Favourite' are all favourites of ours and we would 10/10 recommend them. There are also vegan and vegetarian options available.
To top off a night well spent, treat your team to milkshakes as a post-game treat. Complimenting their quality dishes, THE BUTCHER has eight delicious flavours on its menu. Keep it simple with a classic vanilla or strawberry milkshake, or challenge your team with something new such as the boozy 'Dark Rum 'N Chocolate', made with indulgent chocolate ice cream. Are milkshakes not your thing? No problem, they also offer a variety of soft drinks alongside classic alcoholic beverages such as beer and cider.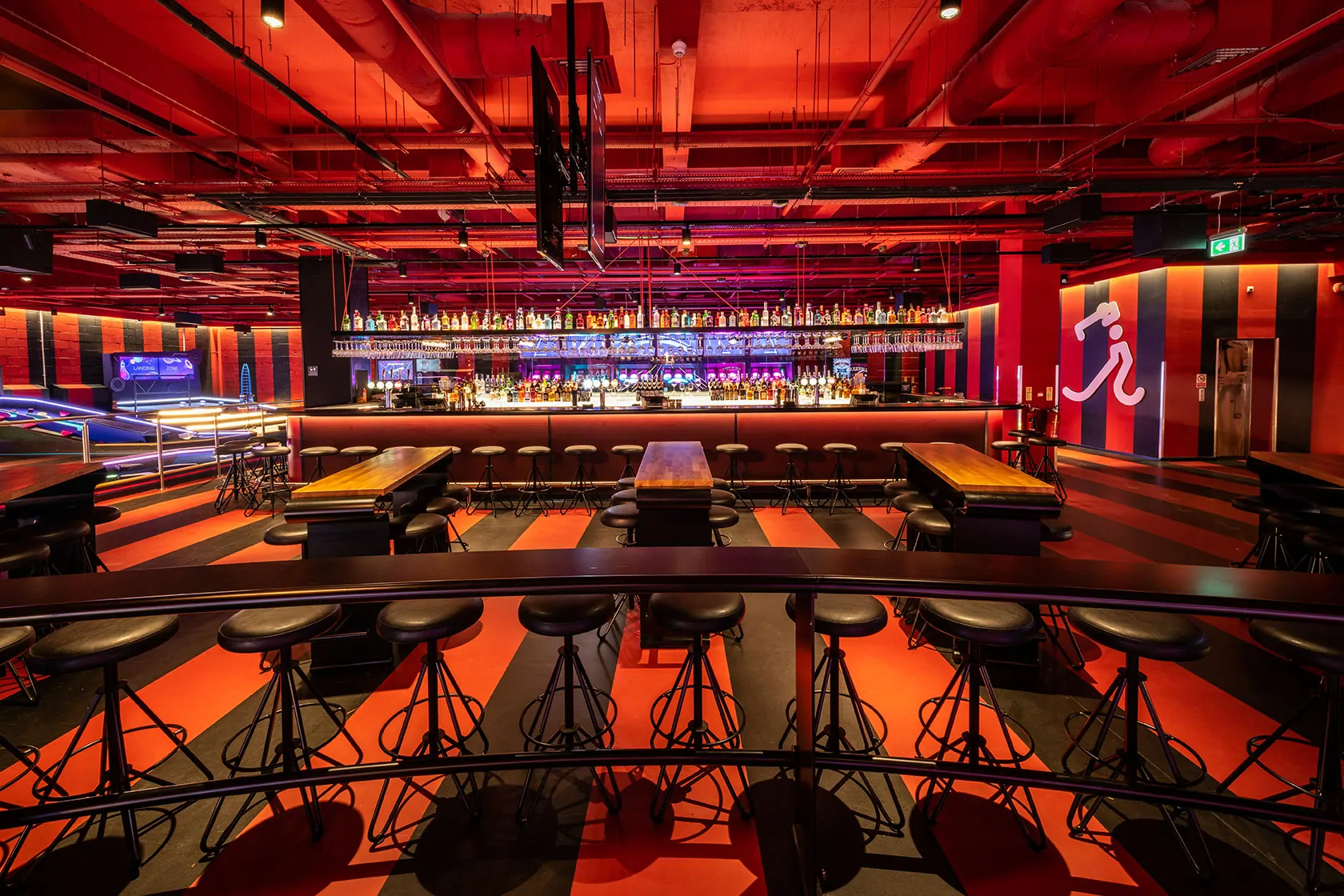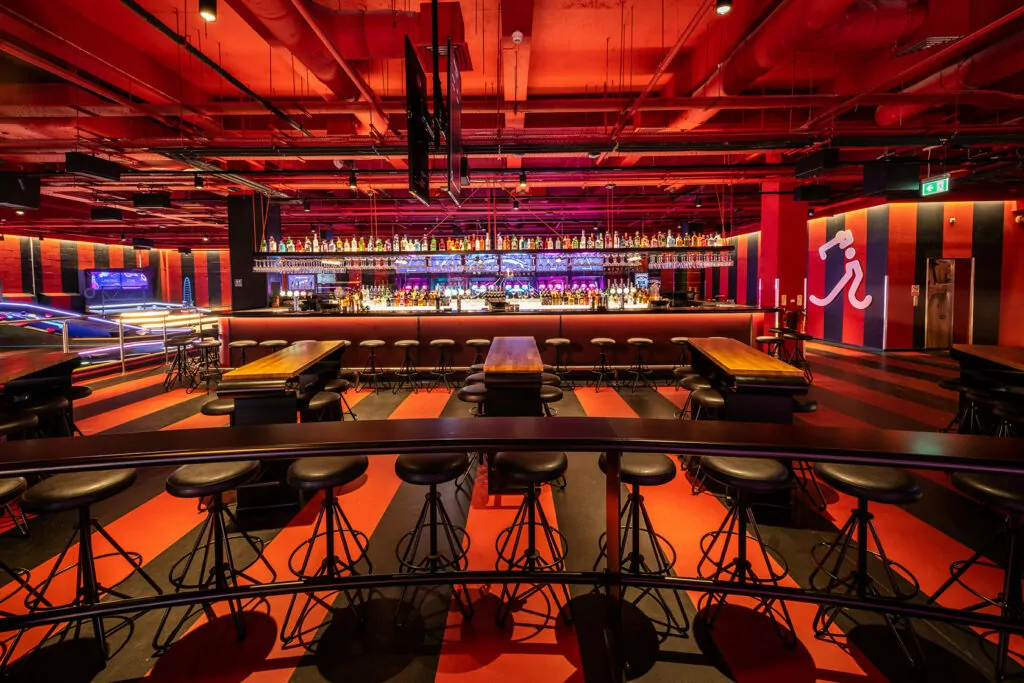 The Bars
For those who are looking for a more flavourful infusion of alcohol, step into 'The Bars' and enjoy the extensive list of spirits, or treat yourself to one of their cocktails. 'The Kiwi Cosmo' and 'Raspberry Mojito' are an absolute must for summer, but for those who like more bitter concoctions, we would recommend the classic 'Smokey Old Fashioned.' Which would you choose?
Christmas Parties
It's never too early to start planning the ultimate Christmas party for you and your co-workers! We offer the exclusive private Christmas party venue hire in Manchester, making your office Christmas party unique and one to remember. Book your Christmas party today!
We are sure that after all of that, your team will be more than satisfied and will have lasting memories of one of Manchester's greatest attractions (if we do say so ourselves!). To book your next team event, book via our website or give us a call on 0161 527 1230. A full list of our opening times can be found on the 'Contact Us' tab on our website. Don't be shy, give us a follow on our social media channels to stay up-to-date with all of our news & offers.