Are you ready to be the best crazy golf player in Manchester?
Are you looking for a new adventure to share with your friends? Challenge your group and push yourself at our brand-new tech-infused crazy golf in Manchester.
A new, tech-infused world
At Urban Playground, we dared to reimagine the world of crazy golf – and Putters is the result of our vision. Here at Putters, we pair the thrills of overly-competitive crazy golf with our visually stunning, interactive decor to offer an immersive and exhilarating experience in the heart of Manchester. A uniquely engaging experience, Putters goes above and beyond the usually limited decorations and plain structures – maybe an animatronic or two – to offer high-end LCD displays, engaging visuals, dazzling lights and top-of-the-range electronics at each hole to ensure your visit is an immersive and mesmerising experience. Putters is a family-friendly environment that promises to keep the whole family engaged and entertained, and the experience is made all the more special by our stunning visuals and immersive atmosphere. Our experience offers three themed challenges, each with nine themed holes, promising a fun-filled, action-packed crazy golf experience, with each course offering an exciting new challenge and a fresh adventure for your group.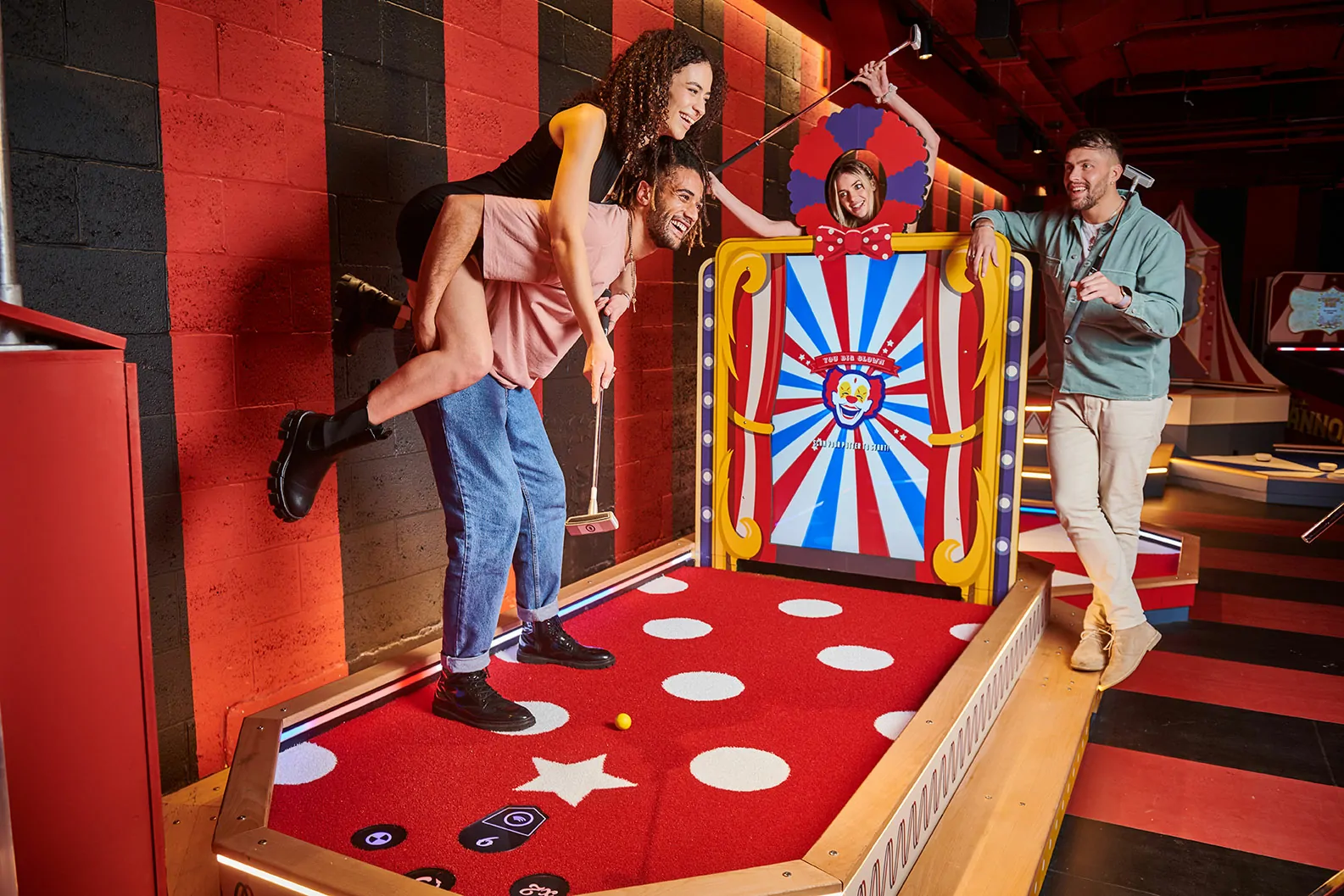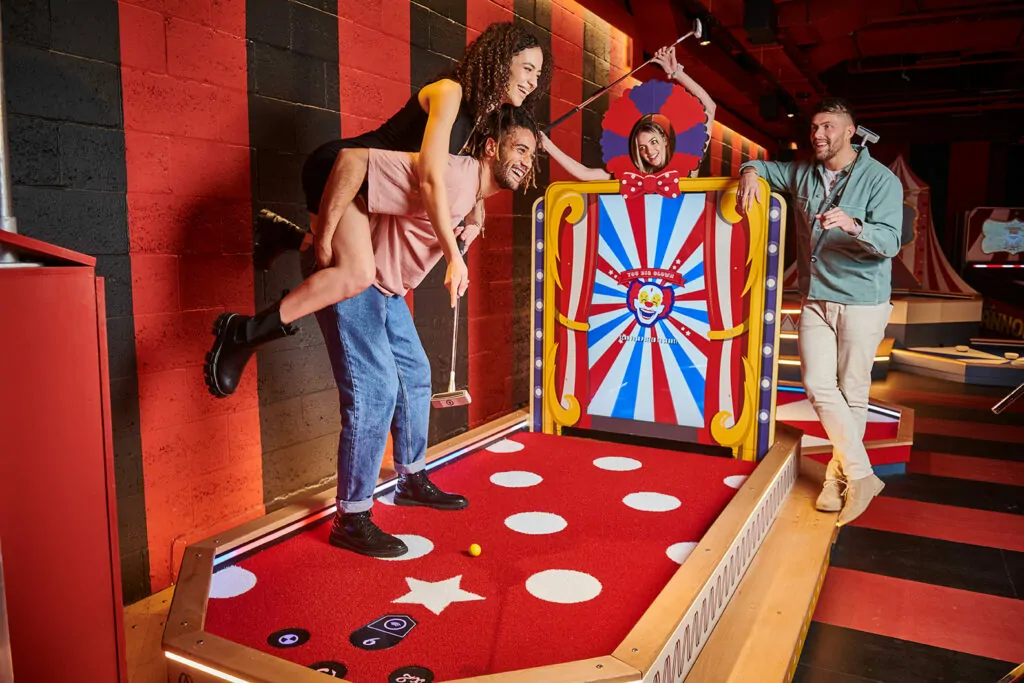 The Future of Crazy Golf
Our focus on tech infusion is not limited to our decor – it is at the heart of our entire system and covers all aspects of our unique crazy golf experience. Our specially designed challenges are supported by our immersive high-tech system and displays to offer a new, fun-packed way of playing crazy golf. Each round offers new displays and engaging visuals to keep your group engaged and entertained whilst your overly-cautious and competitive friend finally finishes his turn. Our unique audio and on-screen animations are designed to keep things lively and guarantee that there will never be a dull moment – particularly as Putters allows you to bring drinks and cocktails onto the golf course. We understand that crazy golf is more than just an activity – it is a challenge, a social event, and, most importantly, the best possible start to a big night out. Urban Playground is found right in the heart of Manchester Arndale and at the centre of Manchester's nightlife district. Whilst Putters closes at 8:30pm and 9pm on weekends, Urban Playground remains open well into the evening and offers a range of places to grab the first drinks of the evening.
At Putters, we've done away with the hassle of keeping score, the squabbling over sneaking in an extra point and that one mate's desperate need to always be in charge. Our live high-end LCD scoreboards show each player's points at every hole and our system tracks your groups' progress, meaning that you can focus on what's important: absolutely thrashing your mates, colleagues, Tinder date, little sister, or even the high scores of other teams. We dial up the competitive nature of crazy golf to the max by allowing your team to compete against other teams and beat out other competitors to be crowned the best crazy golf player in Manchester – if that doesn't bag you a second date then we don't know what will!
Savour Your Victory
After a competitive game of crazy golf, your group will no doubt be hungry or ready for another glance at Urban Playground's specially curated range of beverages. There's no better place to laud your victory over everyone than in THE BUTCHER – our favourite place to eat in Manchester. Home to the best quality burgers made with the finest Aberdeen Angus beef, and speciality milkshakes, THE BUTCHER also offers a range of vegan and vegetarian alternatives, guaranteeing that there will be something for everyone's tastes.
So call up your friends and head down to Urban Playground for a memorable night like no other. Home to several must-do activities such as THE CUBE Live Experience and Putters, Urban Playground is fast becoming the place to be so come on down and start your next big night out with us and our Manchester restaurant.